Introducing the future of home cultivation
Enjoy access to the freshest, most nutritious and delicious produce from the comfort of your home. With Homefarm you can effortlessly grow your own organic crops and incorporate them into your daily diet. It's cultivation simplified.









Homefarm is the first product of its kind in South Africa. It is a smart home appliance which can grow a variety of microgreens and microherbs all year round from the comfort of the home. It is designed to fit seamlessly into your lifestyle - as the busy urbanite who aspires to eat and live well. Homefarm is perfectly suited to apartment style living. It adheres to universal kitchen design specifications, meaning it can be easily built into cabinetry to save on premium counter-top space.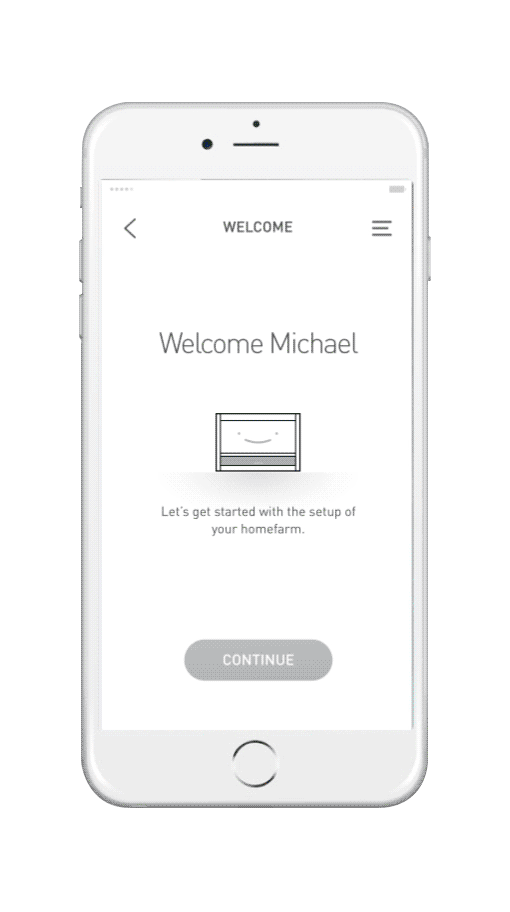 An exceptional end to
end user experience
The Homefarm app, working in conjunction with the product, will guide you through your journey from planting to harvest. It will help to ensure fun and successful harvests, time after time, regardless of age or gardening experience. The Homefarm app is also the best place to be inspired by the curated collection of homefarm recipes to be used with the entire range of Homefarm crops.


The Homefarm App launches September 2018.
Why microgreens?
Microgreens are some of the best sources of fibre, micro-nutrients and vitamins in the world.
Microgreens are the young greens of vegetable and herb plants, harvested after 2-4 weeks. They are considered a super food. In a recent study conducted by the BBC, 12 different types of microgreens and microherbs were identified in the top 100 most nutritious foods in the world.
Not only are microgreens healthy, but they are delicious too. Because of their young age, they have a freshness and intensity of flavour which is unmatched. They can form the basis of, or complement a wide variety of delicious meals.
RECIPE OF THE WEEK
Tatsoi Saag Paneer
Method: In a medium non-stick pan, heat 1 Tbsp. olive oil. Add tofu, and cook until outer edges are browned and crispy, stirring several times with a spatula. Set aside. Heat remaining 1 1/2 Tbsp. oil in a large wok over medium-high heat. Add garlic, pepper, ginger, onion, and season with salt. Sauté until onions are translucent. Stir in spices and tomatoes, and cook for another 10 minutes until spices become fragrant. Add boiling water and tatsoi. Cook for 2minutes. Transfer half of the mixture to a blender, and puree until smooth. Return to the pan. Add tofu. Adjust salt…
Featured crops: