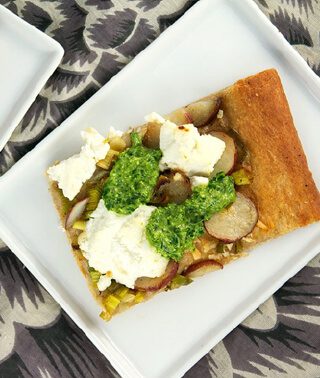 Method:
For the sorrel pesto:
Combine garlic, nuts, 1/3 cup of the olive oil, a pinch of salt, and some freshly ground black pepper in a mini food processor.
Process until mixture is smooth and emulsified. Add sorrel leaves and lemon juice puree until smooth. If the mixture is thick, add a few tablespoons of water, and pulse until lighter in color and well mixed.
Stir in lemon zest, taste and add more salt or pepper, as desired.
For the pizza:
Heat oven to 100°C, Drizzle the baking sheet with some olive oil and place it on the rack while oven heats up.
Cut the leeks in half lengthwise and then slice them into 6cm inch thick half circles. Heat 2 Tbsp. of the olive oil in a large frying pan over medium heat. When oil shimmers, add leeks and season with salt and freshly ground black pepper. Stir to coat in oil then add potato slices. Cook, stirring rarely, until potatoes are slightly softened and golden, about 5 minutes. Remove from heat and reserve.
Meanwhile, place dough on lightly floured parchment paper, and, using a lightly floured rolling pin, roll to a 30cm rectangle. Pierce the dough in several places to prevent it from bubbling up unevenly.
Scatter Pecorino evenly over the dough, leaving a 3cm border. Evenly distribute leek mixture then top with dollops of ricotta every few inches. Brush the border of the pizza crust with oil and drizzle the top with a few spoonfuls of olive oil. Using the parchment paper to help, carefully place the pizza (with the parchment paper) on the hot baking sheet in the oven.
Bake until crust is crispy, cheese is melted and starting to brown, and underside of dough is golden brown, about 15 to 20 minutes. Remove from oven, slice into pieces, top each piece with a spoonful of the sorrel puree, drizzle with additional olive oil, top with a sprinkling of salt, and serve immediately.
Ingredients:
1 garlic clove
1/3 cup raw sliced almonds
1/2 cup extra-virgin olive oil plus more for drizzling
kosher salt and Freshly ground black pepper
2 cups (2 ounces) packed sorrel microgreens
grated lemon zest
1 medium leek (ends trimmed)
225g baby potatoes sliced paper thin
500g fresh whole wheat pizza dough
1/4 cup finely grated Pecorino Romano cheese
225g whole milk ricotta cheese