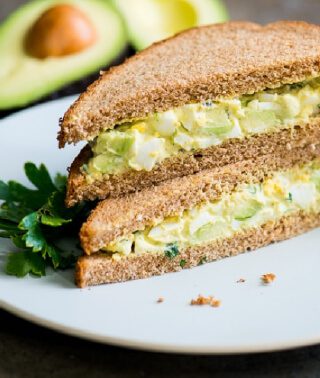 Method:
Mix together the mayonnaise, celery, green onions, fresh herbs, capers, lemon zest & mustard.
Finely chop the peeled eggs. Add to the mayonnaise mixture & gently fold in.
Add the diced avocado & gently fold in.  Season with salt & pepper to taste.
Spread a little mayonnaise or mustard over slices of bread or bruschetta. Layer the sliced tomatoes & radishes on top.
Top with a generous amount of egg salad & a mound of mustard microgreens. Serve open-faced or topped with second slice of bread. Enjoy!
Ingredients:
8 large free range eggs, hard-boiled, cooled & peeled
½ cup mayonnaise
2 small stalks celery, finely chopped
2 green onions, finely chopped
1-2 cups black mustard microgreens
½ cup chopped mix of parsley, dill, tarragon, basil & cilantro
1tsp. Dijon mustard
1-2 Tbsp. capers
1tsp. lemon zest
1 avocado, diced
1-2 sliced radishes
1-2 sliced tomatoes
Salt & freshly ground black pepper to taste
Whole grain bread or bruschetta