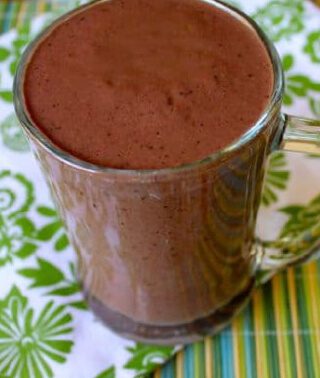 Method:
Make the hemp milk by combining the hemp seeds and water in a high-speed blender and process for 30 seconds.
Add frozen fruit and greens to hemp milk in the blender. Use tamper if necessary to help process the ingredients again on high for about 1 minute.
Add cacao powder, maca powder, flax meal, dates, prunes, and chia seeds to the blender.
Process one final time for 1-2 minutes or until completely blended. Serve cold.
Ingredients:
1/4 cup hemp seeds
4 cups cold water
1 frozen banana
1 cup frozen peaches
1 cup frozen blackberries
1/2 cup frozen mango
1 cup mizuna microgreens
3 Tbsp. cacao powder
1 Tbsp. maca powder
1 tsp. vanilla extract
2 Tbsp. flax meal
4 dates
6 prunes
1 Tbsp. chia seeds