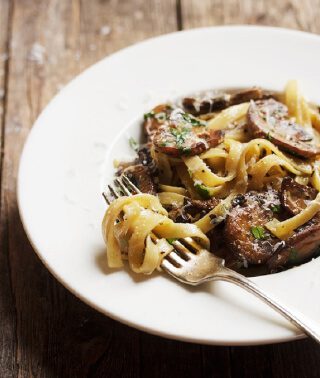 Method:
Sauté the mushrooms: Add oil to a large skillet to make a thin coat over the entire bottom of the skillet. Heat oil over medium-high heat until it shimmers. Add 1/2 of your mushrooms and arrange in a single layer (they should all lay flat with a bit of space in between.) Allow to cook until the underside is nice and golden. Flip over and brown the other side. Once golden brown on both sides, remove mushrooms to a bowl and repeat with remainder of the mushrooms.
Meanwhile, bring a large pot of water to boil for your pasta. When water is boiling, salt well and add pasta. Cook according to cooking instructions.
When all mushrooms are browned and as pasta boils, wipe out your skillet and return all the mushrooms to the pan. Re-heat over medium heat until warmed through. Add wine and allow to simmer until wine reduces by half. Add grainy mustard and dried tarragon or thyme. Stir well to combine. Reduce heat to medium-low. Add the cream, half of the grated Parmesan, a bit of salt and freshly ground pepper and stir well to combine (pasta should be just about cooked by now. If not, remove pan from heat until pasta is ready).
Remove/reserve 1 cup of pasta boiling water from pot then drain pasta and add to skillet with mushrooms and sauce. Add about 1/3 of a cup of the reserved pasta water. Over medium heat, cook, tossing the pasta in the sauce, until the sauce thickens slightly and coats the pasta. Add more pasta water if necessary. Add the black mustard microgreens and toss with pasta.
Remove pasta to serving plates or bowls. Serve garnished with the additional grated parmesan, parsley and a finishing sprinkling of salt and freshly ground pepper as needed.
Ingredients:
500g mixed mushrooms (such as Crimini, Shiitake or Button)
1 Tbsp. olive oil for pan frying
120 ml white wine
2 tsp. whole mustard
½ cup black mustard microgreens
5g dried tarragon (or 2 tsp. fresh chopped or 1/2 tsp. dried thyme leaves or 1 tsp. fresh thyme leaves)
100ml heavy cream
Salt and freshly ground pepper
Tagliatelle or similar pasta enough for 2-3 servings
50 g Freshly grated Grana Padano or Parmesan cheese
Pinch of Fresh parsley microgreens/ leaves for garnish