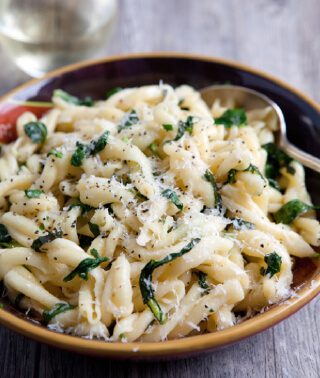 Method:
Prepare the pasta according to the box directions, making sure to leave it al dente as it will cook more in the sauce – take a minute or so off the cooking time.  Reserve a ½ cup or so of the starchy pasta liquid; set aside and drain pasta into a colander.
In a large skillet, add the butter and melt until it seems ready to brown.  Add the pasta: coat with the butter.  Add the tatsoi and toss in the skillet until it begins to wilt.  Add the basil, chopped chives, salt and pepper, and ½ cup of Parmigiano Reggiano.  Squeeze half a lemon over all.
Serve with freshly grated Parmigiano Reggiano and remaining lemon.
Ingredients:
16 ounces dried pasta (pasta that has ridges or holes work best)
½ stick of unsalted butter
2 cups tatsoi microgreens
1 cup basil microgreens
½ cup freshly grated Parmigiano Reggiano cheese (or your preferred brand of Parmesan cheese)
kosher salt and coarse ground black pepper
2 tablespoons chopped chives
1 lemon cut in half – slice one of the halves into wedges