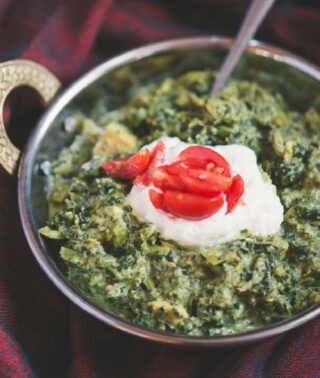 Method:
In a medium non-stick pan, heat 1 Tbsp. olive oil. Add tofu, and cook until outer edges are browned and crispy, stirring several times with a spatula. Set aside.
Heat remaining 1 1/2 Tbsp. oil in a large wok over medium-high heat. Add garlic, pepper, ginger, onion, and season with salt. Sauté until onions are translucent. Stir in spices and tomatoes, and cook for another 10 minutes until spices become fragrant.
Add boiling water and tatsoi. Cook for 2minutes. Transfer half of the mixture to a blender, and puree until smooth. Return to the pan. Add tofu. Adjust salt to taste, if needed. Serve over rice, and add a spoonful of yogurt or raita on top.
Ingredients:
Olive oil
500g extra firm tofu, pressed between two plates
4 cloves garlic, minced
1/4 serrano pepper, minced
1 TBsp of ginger, minced
1 med. onion, diced
2 tomatoes, diced
2 tsp. coriander
1/2 tsp. garam-masala
1 tsp. cumin
1/4 tsp. turmeric
Cinnamon, pinch
1/2 Tbsp. sugar
Salt, to taste
1/2 cup of water
500g tatsoi microgreens
100g heavy cream
Raita or yogurt on top