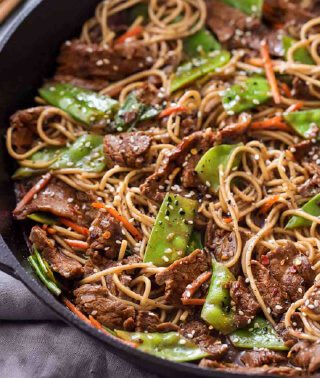 Method:
Combine marinade ingredients in bowl and add flank steak.  Set aside for 15 minutes.
Heat 1 Tbsp vegetable oil in large skillet over MED HIGH heat.  Remove excess marinade from steak and cook in a single layer, for 2-3 minutes, stirring to cook both sides.  Depending on the size of your pan, you may need to do this in batches.  Remove steak to plate.
Heat remaining 1 Tbsp vegetable oil, then add peas, carrots and green onion and cook, stirring often – every 2-3 minutes.
Whisk together broth, soy sauce, honey/brown sugar, rice vinegar, garlic, sesame oil, fresh ginger, cornstarch, and red pepper flakes.  Add steak and sauce to skillet, stirring to combine.  Sauce will thicken.
Stir in raw tatsoi microgreens and cooked ramen noodles, and serve!
Ingredients:
BEEF MARINADE
2 tsp minced garlic
1 Tbsp grated fresh ginger
2 Tbsp reduced sodium soy sauce
1 Tbsp rice vinegar
1 Tbsp sesame oil
1 Tbsp sesame seeds
1/2 tsp Chinese 5 spice
1/4 tsp black pepper
STIR FRY
1/2  Kg flank steak, thinly sliced
1 cup tatsoi microgreens
1 cup snow peas, sliced in half across
1/2 cup sliced carrots
8 green onions, sliced
1/4 cup beef broth
2 Tbsp reduced sodium soy sauce
1-2 Tbsp honey or light brown sugar
1 Tbsp rice vinegar
1/2 Tbsp minced garlic
2 tsp sesame oil
1 tsp grated fresh ginger
1 tsp cornstarch
1/2 tsp red pepper flakes
2 Tbsp vegetable oil (for cooking)