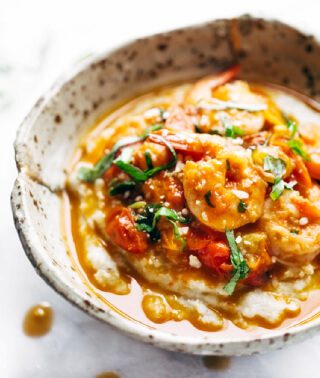 Method:
GRITS: In a medium saucepan, bring the almond-milk to a near-boil (it's ready when it's steaming). Add the grits and 1 tsp. salt and whisk until smooth. Reduce heat and cover; let the grits cook for 7-10 minutes, stirring occasionally to prevent clumping or scorching. Stir in 1 Tbsp. olive oil (more to taste) and season with more salt as needed.
SHRIMP: In a large pan over medium heat, heat 1 Tbsp. olive oil and 1 clove of the garlic. Add the shrimp, sprinkle with 1/2 teaspoon salt, and cook for a few minutes on each side until pink. Remove from heat.
TOMATO SAUCE: In the same skillet, add the tomatoes, garlic, and remaining olive oil. When the tomatoes start breaking apart and letting off their juices, add the chicken broth and simmer for 10-15 minutes. The sauce should thicken as you simmer it and reduce the heat. Add the 1 tsp. salt, shrimp, and basil microgreens. Stir to combine.
SERVE: Divide the grits between four bowls and top with the shrimp/sauce. You can top with additional basil or Parmesan cheese.
Ingredients:
1/2 cup grits
2 1/2 cups almond-milk
1/4 cup olive oil (divided)
2 1/2 tsp. seasalt (divided)
500g raw shrimp
4 cloves garlic, minced
4 cups cherry tomatoes, halved
1 cup chicken broth
a handful of fresh basil microgreens