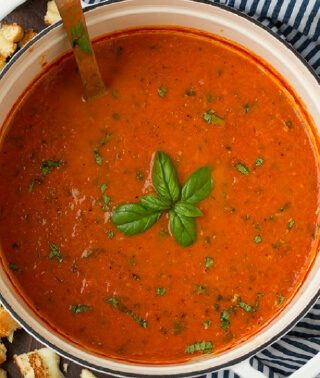 Method:
Preheat oven to 150 degrees C.
Place tomatoes on a rimmed baking sheet and toss with 3 Tbsp. olive oil then season with salt and pepper.
Place onion slices and garlic on a rimmed half sheet and toss brush with remaining 1 Tbsp. olive oil on all sides, sprinkle with salt and pepper.
Place baking sheet with tomatoes and half sheet with onions in oven side by side and roast onions 30 – 35 minutes until edges are golden, and tomatoes 40 – 45 minutes until golden.
Peel away any burnt papery layers of onions if there are any. Pull peels from tomatoes.
Pour onions and tomatoes into a large pot. Add 1 cup vegetable broth and the basil microgreens. Season with salt and pepper to taste. Bring to a boil then reduce heat and simmer 20 minutes, adding an additional 1/4 cup vegetable broth to thin as desired. Blend soup with an immersion blender or in small batches in a blender (only fill blender half full). Serve warm topped with grilled cheese croutons if desired.
Ingredients:
200g Roma tomatoes, halved
200g Cherry tomatoes
4 Tbsp. olive oil
Salt and black pepper (freshly ground)
2 cloves garlic , peeled and left whole
1 small yellow onions , sliced just under 1.5cm thick
1/2 cup (32g) lightly packed fresh basil microgreens
1 1/4 cups vegetable broth
Grilled cheese croutons (optional)