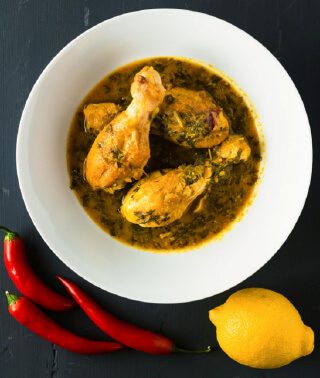 Method:
Heat the oil in a pot large enough to hold all the chicken. Dry the chicken with paper towel. Working in batches, brown all the chicken over moderately high heat. Don't over crowd the pan and let the chicken cook long enough to release naturally. This helps avoid sticking problems.
Remove the chicken and drain off all but 3 Tbsp. of oil.
Over medium heat, cook the garlic and ginger until it stops sizzling, about 30 seconds.
Now add the green chilies and cook another 30 seconds.
Add the spices (coriander, cumin powder, turmeric, chili powder and salt) and cook 15-20 seconds
Mix in the chopped coriander. Cook, stirring constantly for another 30-45 seconds.
Add the lemon juice and the chicken stock or water.
Return the chicken and accumulated juices, cover, and simmer until the chicken is cooked through – about 15 minutes.
Ingredients:
3 kg chicken on the bone, skinned
6 Tbsp. vegetable oil
1 ½ tsp. garlic diced finely
1 ½ tsp. ginger diced finely
4 green hot small chilies seeded and diced (or 2 jalapeños, seeded and diced)
1 Tbsp. coriander finely chopped
2 tsp. cumin powder
1 tsp. turmeric
1 tsp. salt
1/2 tsp. kashmiri chili powder or 1/4 tsp cayenne
2 piece of cinnamon bark
2 cups coriander microgreens
3 Tbsp. fresh lemon juice
3/4 cup chicken stock or water