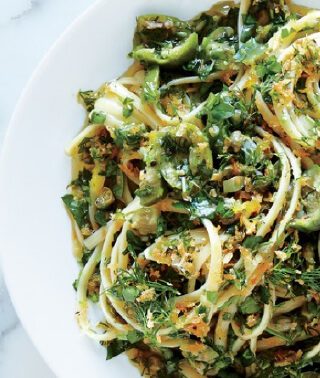 Method:
Heat 1 Tbsp. oil in a medium pan over medium heat and cook panko, stirring, until golden, about 5 minutes. Season with salt and pepper; transfer to paper towels to drain and toss with dill and lemon zest.
Cook pasta in a large pot of boiling salted water, stirring occasionally, until al dente. Drain, reserving 1/2 cup pasta cooking liquid.
Meanwhile, mash anchovies and garlic to a paste on a cutting board with the side of a chef's knife. Combine with parsley, basil, and half of olives and capers in a large bowl. Chop remaining olives and capers and add to bowl, along with remaining 1/2 cup oil. Mix well; season sauce with salt and pepper.
Add pasta and 1/4 cup reserved pasta cooking liquid to sauce. Toss, adding Parmesan a bit at a time, along with more pasta cooking liquid as needed, until sauce coats pasta. Add lemon juice; season with salt and pepper.
Serve pasta topped with panko and more Parmesan.
Ingredients:
1 Tbsp. plus 1/2 cup olive oil
1/4 cup panko (Japanese breadcrumbs)
Kosher salt, freshly ground pepper
2 Tbsp. chopped fresh dill
1 tsp. finely grated lemon zest
350g linguine or other long pasta
4 oil-packed anchovy fillets
1 small garlic clove
1 cup fresh parsley microgreens
1/2 cup fresh basil microgreens
1 cup green olives, pitted, halved
3 Tbsp. drained capers
15g Parmesan, finely grated (about 1/2 cup), plus more for serving
2 Tbsp. fresh lemon juice