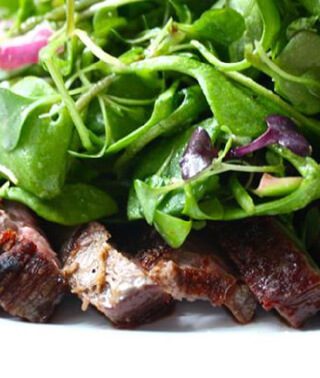 Method:
In a large pan, add the tenderloin, coconut oil, and about half of your favourite beef spices. Cover the pan and cook on medium heat.
As the pan is heating up, cut up the carrots and mushrooms.
As soon as the pan is sizzling (about 5 minutes) add the 2 cups of water to the pan, flip the steaks, re-spice the beef, and add the carrots and mushrooms around the beef in the pan. Re-cover, and continue to cook on medium heat.
On to the Salad:
Chop the cucumbers and avocados.
In a medium mixing bowl, add the Parsley and mint, then add the chopped cucumbers and avocado, finally drizzling the olive oil over the top of that.
Mix the salad thoroughly. Take your time on this, micro-greens are fragile, and the salad will taste and present the best if they aren't bent of crumpled too much.
Let the steak cook until the water has entirely boiled off. Stir every 10 minutes or so.
Once the steak is cooked cut into slices, add the carrots and mushrooms to the salad and mix again.
Serve the salad over the slices of tenderloin.
Ingredients:
2 cups parsley microgreens
2 sprigs fresh mint, chopped
1 small cucumber, chopped
1 small avocado, chopped
2 Tbsp. olive oil
6 Crimini mushrooms, chopped and roasted
2 medium carrots, chopped and roasted
500g organic beef tenderloin, slow-cooked
1 Tbsp. coconut oil
2 cups water
Your favourite beef spices